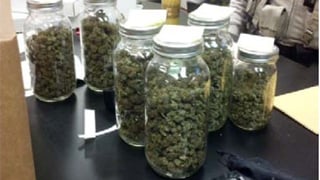 A civilian's 911 call helps police catch a fleeing suspect from a scene in which they responded to earlier after gun shots were reported.
Sherriff's dispatchers received a call alerting them of sparks flying from a truck's rim and that the truck looked liked it was running from someone. When the police finally found the vehicle, it was trapped in a ditch off Shedd Road just east of Chu Road. As the deputy approached the scene, the driver of the truck, Anthony Lara, 19, who was standing outside of it rushed to get back in the cab where he then started yelling profanities at the police.
Upon finally placing Lara under arrest, the deputies searched the truck where they found three handguns, a Glock 17 handgun which was loaded, a Smith and Wesson .38-caliber handgun, and a .357-caliber handgun, seven glass jars containing hydroponic marijuana, and multiple marijuana smoking pipes. Further investigation revealed the .357-caliber handgun was stolen.
Undoubtedly, Lara is in for a handful of charges that could have a significant impact on the rest of his life. If you or someone you know is also facing such criminal charges, of any nature, then you need to get in contact with a Phoenix criminal law specialist who can minimize the damage.
An experienced criminal defense attorney not only knows how to get you the best deal possible, but in certain cases, they can get the charges dropped all together if they find that one of your rights was violated during any part of the process.
You are not in this alone. Retain counsel willing to fight passionately to defend your rights and protect your future.